New CD-Release
Franz Schubert's work is often characterised by a peculiar melancholy, which makes the experience of musical expression in almost all of his overtures all the more surprising. There we encounter a light-hearted, unclouded lightness of being, a positive, joyful feeling in which we experience liberation and an opening of the soul, which shows a completely different side of Schubert the genius: the strong sense of hope and unrestrained vitality.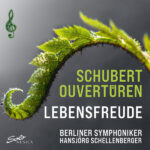 The arc of the album ranges from the early attempts to the prelude to Rosamunde to the comedy Der häusliche Krieg (D 787) and to the "Schmerzenskind" Fierabras, which ultimately fell victim to the bankruptcy of Weber's Euryanthe. Of course, the two pleasurable creations with which Franz Schubert clearly expressed himself about the Viennese Rossini frenzy are not missing either – his two overtures "in the Italian style" bubble along with the self-confidence of a young man who, full of joie de vivre, copies his colleague's recipe for success, as if he wanted to shout to his contemporaries: "Schaut's, das kann i aa". At least that's what it sounds like when Hansjörg Schellenberger and the Berlin Symphony Orchestra receive Rossini's spirit from Schubert's hands … Further Information
Master classes with Hansjörg Schellenberger
The Landesakademie Ochsenhausen in Baden-Württemberg invites you to a master class with Hansjörg Schellenberger, one of the most renowned oboists and teachers in his field. The course lasts from May 25 to 29, 2022 and is designed to prepare talented young musicians for future concert and competition situations. The focus is on instrumental technique and stylistic-interpretational aspects. In addition to the classical solo repertoire, chamber music works can also be worked on. The final concert will take place on Sunday, May 29, 2022, at 11:00 a.m. as part of the Schwäbischer Frühling music festival in Ochsenhausen.
Another master class will be held in Sachrang from September 26 to October 2. Sachrang is a small idyllic mountain village located at the end of the "Priental" between Chiemsee and Kufstein, directly on the Tyrolean border. It invites you as a place for silence and relaxation, for mountain hiking or even winter sports. And of course it is the perfect place to work on the oboe repertoire together with Hansjörg Schellenberger and Ramon Ortega Quero! Further information: www.musik-forum-sachrang.de
In the course of a long international career embracing several different fields of musical activity, Hansjörg Schellenberger has made a well-respected name for himself as an excellent solo oboist with the Berlin Philharmonic, as founder of an ensemble, as a conductor with wide orchestral experience, and as a deeply committed teacher.
The legendary Jan Koetsier instructed him in the use of the baton while Schellenberger – who was incidentally also an academic mathematician – was studying what was to become the focus of his attention with Manfred Clement. Thus it happened that he was never just an oboist. Decades of observing, scrutinising scores and comparing interpretations at first hand on the podium or in the orchestra pit all combined to form the basis of a second career that has now extended into the international sphere.
Amongst the many high-quality orchestras which regularly welcome Schellenberger on to their rostrums are the Camerata Salzburg, the Spanish National Orchestra, the Orchestra Verdi of Milan, the Orchestra della Svizzera italiana and the German Radio Philharmonic of Saarbrücken-Kaiserslautern.
Hansjörg Schellenberger was appointed chief conductor of the Okayama Philharmonic Orchestra in October 2013 for two years. His contract was renewed initially until 2019 and has now been extended for another three years, until 2022, in view of their exceptionally close and successful collaboration.
The artist has demonstrated his work as a musician on more than fifty CDs with all the major recording firms. Moreover, 1997 he founded his own label, Campanella Musica, on which he himself is represented with works by composers such as Carl Philipp Emanuel Bach, Joseph Haydn, and Ludwig van Beethoven as well as with a French baroque program and various works by modern classical composers.
Hansjörg Schellenberger at Guangzhou Symphony Orchestra: